Komkommertijd, en net wanneer je dacht dat er op rally-vlak niet erg veel te beleven valt, krijg je dit bericht binnen: Renato Zocchi wint de Gibraltar Race… op een scooter.
De Italiaan Renato Zocchi wint de 2019 Gibraltar Race in de Klasse 2. Dat is de middenklasse motoren met een motorinhoud tussen de 601 en de 950cc. Op zich zo heel bijzonder. Zocchi is dan ook geen onbekende in de rally-wereld. Hij nam in het verleden al vaker deel aan de Dakar en de Baja 1000 en behaalde ooit een podiumplek in het Wereldkampioenschap Motorcross. De man kan wel met een rallymotor overweg. Wat deze overwinning opvallend maakt, is dat hij met een scooter reed. Toegegeven, het was geen Vespa. Zocchi won op een licht verbouwde 745cc Honda X-ADV scooter. Maar het deed ons op de MaxxMoto-redactie toch even gniffelen.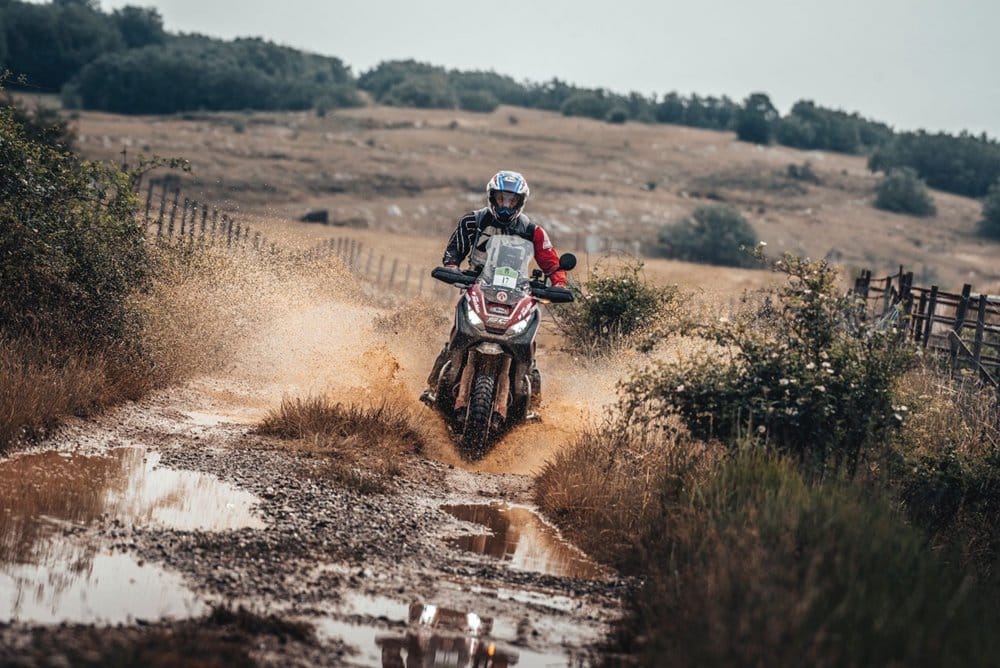 Zocchi ziet er zelf ook de humor van in. "De beste omschrijving van wat ik denk als ik met deze prachtige machine rij, is het woord 'grappig'. Niemand haalt het in zijn hoofd om race als deze te rijden met een scooter. Maar in plaats daarvan streed ik mee voor de overwinning naast de een- en tweecilinder enduros. Dat gevoel is 'pure fun'!" zei Zocchi. En daarmee gaf deze Honda X-ADV de echte adventure motoren zoals de KTM 950 Super Enduro, KTM 790 Adventure R, KTM 690 Enduro, KTM 640 Adventure, KTM 660 Rally, Husqvarna 701 Enduro, en de BMW F 800 GS Adventure het nakijken in deze rally.
De start van de Gibraltar Race werd dit jaar op 21 juni gegeven in Gdansk, Polen en de deelnemers doorkruisten Europa via Tsjechië, Duitsland, Italië en Frankrijk om uiteindelijk op 6 juli aan te komen aan de Cap Finisterre vuurtoren in Spanje. 7000 kilometer in 14 heel gevarieerde etappes brachten de deelnemers over alle soorten terrein: asfalt, gravel, geitenpaden, rivieren, modder en weideland.
Om met die variatie overweg te kunnen, kreeg de Honda X-ADV van Zocchi een paar aanpassingen. "We hebben de X-ADV wat aangepast om de grondspeling te vergroten en hem meer geschikt te maken voor extreme off-road-routes." legt Zocchi uit. "Voor deze race kreeg ik een X-ADV 2019 ter beschikking van Honda, uitgerust met geavanceerde elektronica. Zo heeft deze scooter de G-modus voor de DCT-versnellingsbak en tractiecontrole op twee niveaus. Motor en chassis zijn standaard. Wel is er een krachtig SC-Project uitlaatsysteem geïnstalleerd en is de vering aangepast aan extreme off-roadomstandigheden met Öhlins voorveren en shock. De banden zijn Anlas Capra X, de perfecte mix voor lange afstanden op de weg en off-road, gemonteerd op Bartubeless wielen."
Benieuwd of we hem ook aan de start van de Baja 1000, de Dakar of de Morocco Desert Challenge gaan zien met deze scooter.
Altijd als eerste op de hoogte zijn van het laatste motornieuws?
Download de MaxxMoto App, voor iPhone of Androïd.