De eigenaar van deze KLX wilde aanvankelijk enkel de achterbrug en shock laten vervangen door die van een Yamaha YZ250. De hoofdmechanieker bij Knuckle Whackjob in Jakarta, Indonesië, dacht daar even anders over. De man heeft een hele levendige verbeelding en geen enkele terughoudendheid. Of is het vooral een goeie verkoper?
Van de kleine Kawasaki uit 2012 is er uiteindelijk niet veel origineel gebleven, op het motorgedeelte na. De hele veerwinkel werd vervangen door die van de Yamaha YZ250, wat meteen ook een mooie upgrade was. Om de voorvork te laten passen werd een Pro Circuit kit gebruikt met een nieuwe kroonplaat en t-stuk.
Verder is zowat alles custom: de tank is een uniek handgemaakt exemplaar, net zoals het zadel, de radiatorcovers, de zijpaneeltjes met race nummers en de retrokoplampen. Ook het subframe werd stevig onder handen genomen en ingekort.
Maar niet alles is retro. De KLX kreeg ook nog een paar hedendaagse upgrades mee. Zo kreeg de motor een FMF Power Core 4 uitlaat gemonteerd, een Renthal stuur met ProTaper handvatten, karterbescherming en Acerbis forkseal beschermers.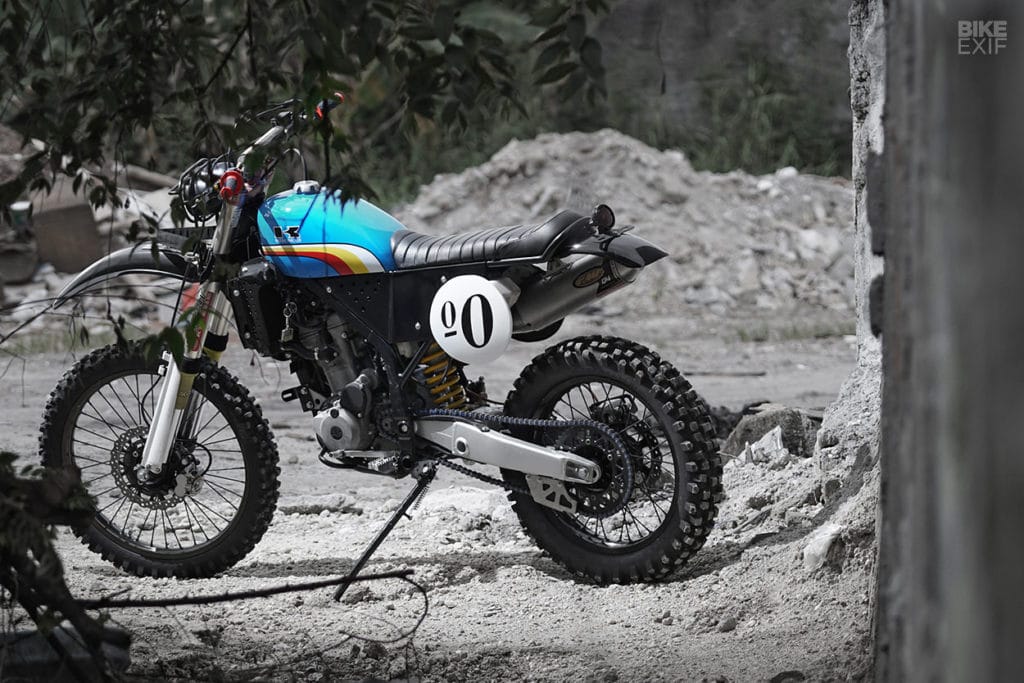 Wat de KLX zo leuk maakt, is de paintjob met een duidelijke knipoog naar de jaren '70: een volledig zwart frame met enkel de tank in helder blauw met rood, gele en witte strepen. Extra details zijn de blauwe ketting en de rode remleiding achteraan. Al bij al een heel leuk pakketje, eentje waar je zo het veld mee in wil duiken.
Altijd als eerste op de hoogte zijn van het laatste motornieuws?
Download de MaxxMoto App, voor iPhone of Androïd.