Kacerwagen is de customshop van Chus Valencia. Aan de Spaanse zuidkust bouwt hij voornamelijk cafe racers, al is onderstaand kunstwerkje toch wel van een apart niveau.
De uitdaging begon toen een klant zijn 2007 Aprilia RSV1000 binnenbracht met de vraag om hem een retrosmaakje te geven. Qua motorisatie en sound mag de RSV dan wel een leuke keuze zijn, al is het rijwielgedeelte, en met name het opvallende frame, niet bepaald eenvoudig om in een cafe racer te verwerken.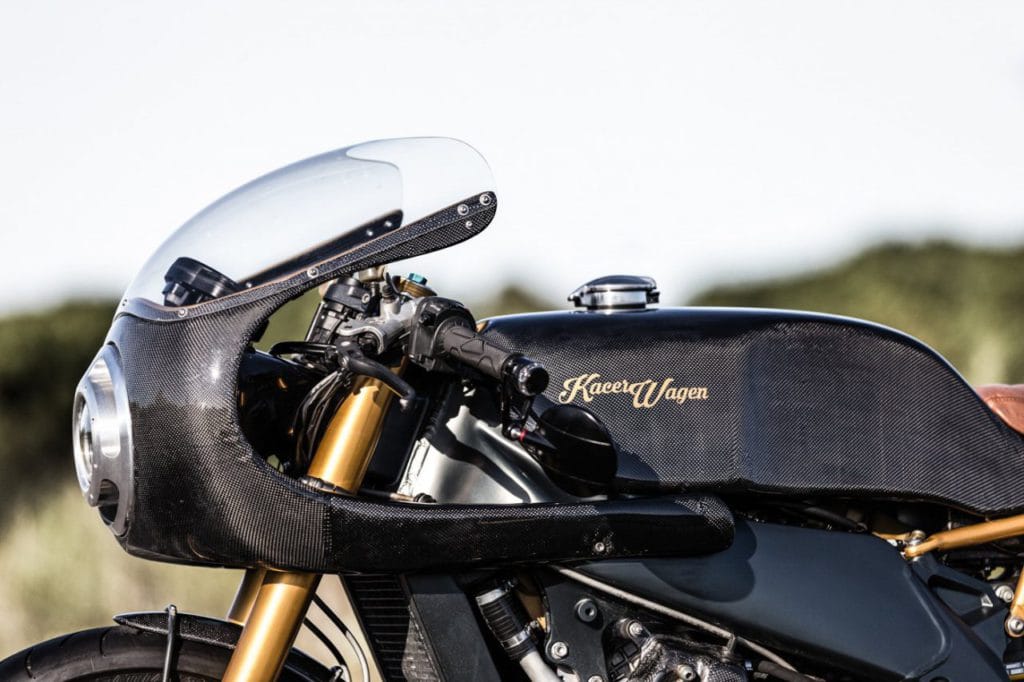 De motor werd gestript, en in de plek van het subframe kwam er een buizenframe waarin ook de elektronica verwerkt zit. Een lederen zadel en carbon kontje maken de achterkant af. Met die uitdaging achter de rug, begon Chus aan de voorkant, waar er een speciaal aluminium koplamphuis gefabriceerd werd waarin ook de luchtinlaat verwerkt zit. Omwille van de minimalistische look werd ook de radiator vervangen, net zoals de uitlaat die vervangen werd door op maat gemaakte pijpen en een enkele Leovince demper.
In de cockpit vinden we een Motogadget teller terug, naast spiegels van Rizoma en de originele Aprilia stuurknoppen. De Öhlins vering en Brembo remmerij werd behouden. Gezien de relatief lage prijzen van de oudere Mille's is het misschien tijd om wat meer cafe racers op basis van echte racers te bouwen?
Via The Bike Shed.
Altijd als eerste op de hoogte zijn van het laatste motornieuws?
Download de MaxxMoto App, voor iPhone of Androïd.