TM Racing Belgium en Zelos slaan de handen in elkaar voor een nieuwe reeks in het Belgisch Supermoto-kampioenschap.
Het gaat om een monotypecompetitie betwist aan het stuur van de TM SMX 300 cc. De nieuwe serie wordt geïntegreerd in het Belgisch Supermoto-kampioenschap en zal bestaan uit zes wedstrijden. Alle gepassioneerden van motorsport, gevestigde waarden of amateurs, zijn welkom in deze nieuwe serie die werkt volgens het 'arrive en drive'-principe.
Alles is uitgewerkt om de deelname aan een wedstrijd zo gemakkelijk mogelijk te maken. De huur en de volledige technische preparatie van de motor door de organisatie op zich genomen en de piloot hoeft zich dus nergens zorgen over te maken. Bij uw aankomst op het circuit hoeft u enkel uw uitrusting aan te trekken, op uw TM SMX 300 te stappen en te racen!
De eerste gelegenheid om te rijden is de trainingsdag op zondag 11 maart op het circuit Jules Tacheny in  Mettet. Die oefendag die de rijders de gelegenheid aan de motoren te wennen, heeft op dezelfde dag plaats als de eerste manche van het Belgisch kampioenschap Supermoto.
De eerste echte start van de TM-Cup wordt gegeven op zondag 6 mei op het kartcircuit van Spa-Francorchamps. Daarna volgen nog vijf manches zowat overal in België (zie de tabel hieronder). En als kers op de taart: de finale heeft plaats in hetzelfde weekend als de Superbiker (19, 20 en 21 oktober in Mettet).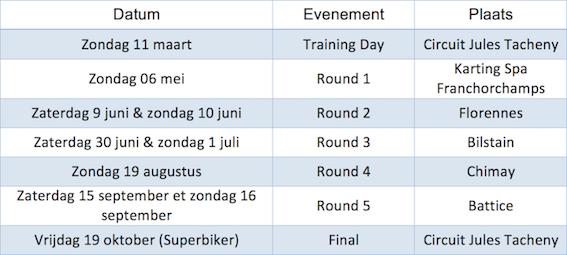 In totaal worden elf supermoto's ter beschikking gesteld door TM Racing België en Zelos. De enige regels om deel te nemen: minstens 16 jaar oud zijn en in het bezit zijn van een FMB-licentie. De kostprijs per wedstrijd bedraagt 600 euro of 3000 euro voor wie de volledige cup wil meerijden.