De derde etappe in de Dakar heeft al meteen heel wat losgeschud in de rankings. Voor KTM was vandaag in elk geval geen topper. Mattias Walkner, Sam Sunderland and Toby Price moesten heel wat tijd prijs geven. Opvallendste uitvaller is Joan Barreda die er na waypoint 3 de brui aan gaf. De etappewinst ging vandaag naar de Fransman Xavier De Soultrait op de Yamaha.
Ok, toegegeven, de race is nog lang en in de Dakar is alles mogelijk. Maar voor KTM was het vandaag toch een behoorlijk off-day. De 3 toppers Walkner, Sunderland en Price moesten heel wat tijd prijsgeven. Walkner, de winnaar van vorig jaar en gisteren nog goed voor etappewinst, eindigde vandaag met een achterstand van zo maar even 23 minuten en tuimelt daarmee van de 2e naar de 8e plek in het algemene klassement.
Voor Joan Barreda eindigt de Dakar ook dit jaar weer voortijdig. De Spanjaard, winnaar van de eerste etappe, kwam in een grote put in de duinen terecht ergens tussen waypoint 3 en 4. Toen bleek dat hij daar op eigen kracht niet uit zou geraken, besliste de Honda-rijder om er de brui aan te geven. Daarmee verliest de Dakar één van de grote kanshebbers op de overwinning.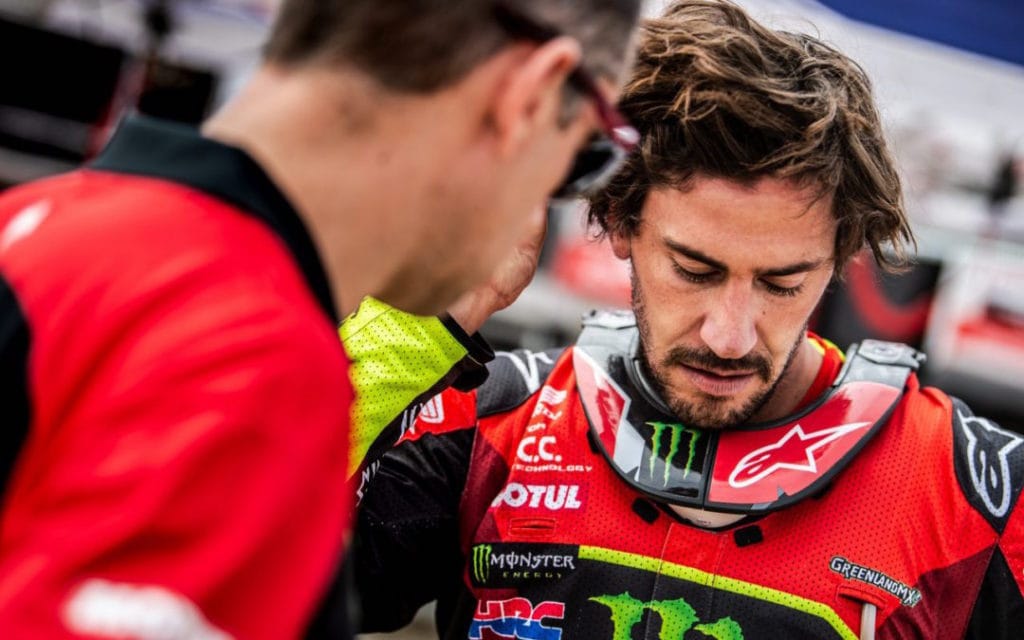 De overwinning op dag 3 ging naar de Fransman Xavier De Soultrait. In het algemene klassement neemt Pablo Quintanilla (Husqvarna) de leiding over van Matthias Walkner. Kevin Benavides (Honda) en Sam Sunderland (KTM) volgen op 11 en 12 minuten.
Altijd als eerste op de hoogte zijn van het laatste motornieuws?
Download de MaxxMoto App, voor iPhone of Androïd.